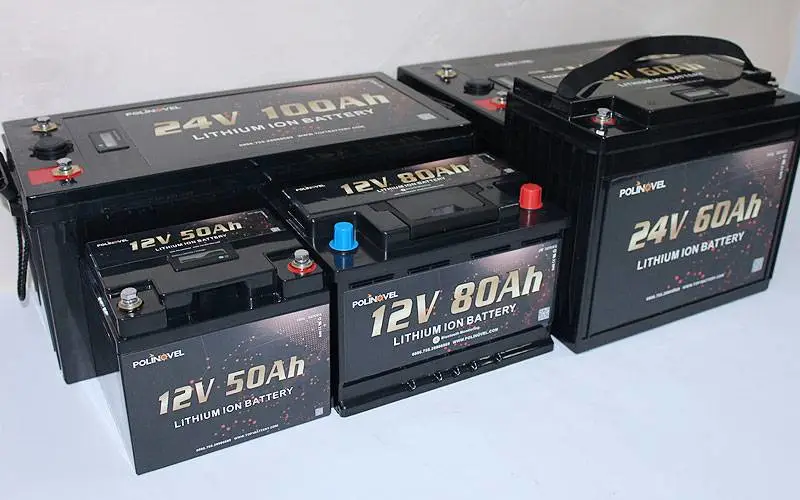 Polinovel lithium battery is versatile and suitable for many deep cycle applications. All of our lithium batteries perform better than conventional lead-acid batteries in RV, Marine, Solar Storage, Light Electric Vehicle etc applications. They all offer more usable energy in lightweight, safe, reliable and maintenance-free. Our battery products include 12V, 24V and 48V LiFePO4 batteries packaged in plastic or iron case, we also have some special battery series designed for specific applications.
In this blog, we will introduce the features of our each product series.
Ultra Low Temperature Series
The ARCTIC Series was designed to solve the problem of charging in low temperature weather, while also assuring lithium batteries perform outstanding for cold weather use. Polinovel ARCTIC Series batteries can safely charge at low temperature -35℃ (-31℉). The battery features patented self-heating technology internal, which draws power from charger itself, and do not need to install additional heating components external. Simply plug the battery into lithium charger same as you use others, the heating system will take care of the rest. In addition, it have the same advantages as other lithium batteries, like more usable capacity, longer life, lighter weight and maintenance-free etc.
The ARCTIC Series lithium batteries are perfect for applications where charging in low temperature below 0℃ is needed. They are also ideal replacing batteries for those using lead acid batteries in cold weather. In addition, we also welcome customize battery specification for specific application.
HT Series
Our HT Series are derivate from HD Series lithium batteries, they share the same strong structure advantages, while equip with advanced Bluetooth communication technology. Through Polinovel 2.0 APP (it's free to download from Google Pay or APP Store), you can get instant access to monitor battery status including battery state of charge (SOC), voltage, capacity, charging discharge current, cycle times, temperature and single cell status. In addition, with APP, it is also convenient to localize potential issues of battery from a smart phone or tablet.
HDN Series
Our HDN Series are embedded with LCD screen and USB output port on top of batter case. The LCD screen display real-time voltage and SOC of battery, and the USB port can quick output power to charge your phone or other electronics before out of power. Except common 12V lithium batteries, the HDN Series also have 24V models available.
NOVEL Series
The NOVEL Series goes with advanced technology of Bluetooth communication. Through Android or IOS APP, you are freely to check the battery working status on smart phone or tablet, the data including battery voltage, capacity, SOC, charging discharging current, cycle times and temperature. With these data, you are more convenient to plan the travel mileage reasonably, without worry about not able to reach the destination or return due to insufficient power.
HD Series
The HD Series are our top-rated lifepo4 batteries, covering the most often using sizes of traditional lead acid batteries from 50Ah to 300Ah.
Battery internal utilize patented screw-fasten assembly technology and the highest quality components that make our lithium batteries are different from others. The robust construction proves to be more durable and superior for using in even harsh environment. These batteries are highly recognized by customers in application of RV, motorhome, caravan, boat, yacht, catamaran, commercial vehicles etc.
V+ Series
Our V+ Series are wall-mounted batteries specifically designed to store energy generated by solar at day, so you can use the power at night or during outage. The V+ Series made up with the most stable LiFePO4 chemistry, configuring intelligent battery management system (BMS) internal and dual-switch protection external, that are utmost safe for install and operate in house.
The V+ series of lithium batteries also support up to 10pcs in parallel to increase available capacity for longer run time, they are compatible with most brands of smart solar inverters on the market, and ideal for home solar systems.
ES Series
Our ES Series are larger batteries with more power in single case, they allow for higher peak and higher continuous discharge currents compare to our other series standard lithium batteries. This is ideal if you need more energy but you do not want to increase the battery quantity in series-parallel connection because of the physical size constraint.
LEV Series
Our LEV Series are iron case packaged lithium batteries specifically for light electric vehicles applications, like golf cart, low speed electric car, sightseeing car, city sweeper, AGV rail car etc. These batteries can be flexibly customizing in voltage, capacity, work current, size, connectors and other accessories to perfectly fit with the specific vehicles.
Polinovel offer a wide range of lithium batteries for any application, from small battery pack to complex battery system. We also offer customize lithium battery service to perfectly fulfill the requirement of specific applications. Check out our full line of product or contact us to providing battery solution for you.