Lithium Battery OEM & ODM
In lithium battery industry, different customers may have different requirements on their batteries, because of
their different applications. Besides, most customers would prefer to have the batteries with their own brand. 
With
the professional engineer team, we are able and willing to help our customers making their ideas come true.
Please
feel free to contact us whether you happen to be looking for a lithium battery solution or you are just looking
for an alternative supplier for back up.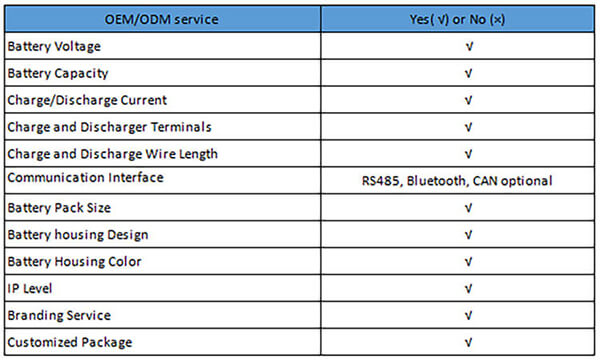 ---
OEM & ODM Application

---
Excellent Production Design
We can customize lithium batteries precisely for you. We have professional OEM,ODM experience and
have been recognized by customers.
---
Advanced Battery Technology
Our technical team can efficiently realize your various functional requirements for lithium battery, such as
RS485, CANbus, Bluetooth monitoring and GPS etc technology.
---
OEM/ODM Cooperation
We warmly welcome your OEM cooperation. We will do our best to comply with your requirement with
our utmost efforts.